Elliptical trainers have become one of the most popular pieces of exercise equipment for home training and for workouts at the gym.
Elliptical trainers great for workouts as they allow you build your cardio fitness without putting unnecessary stress on your joints. The smooth motion of elliptical machines have helped to make them a more popular, in-demand exercise option.
Elliptical exercises will help you create a well-rounded workout regime. Weight bearing regimes like hiking, running and elliptical exercise, will boost your circulatory system, with an emphasize on building bone density.
Treadmills may still be very popular at health clubs. And stationary bikes seem to be making a comeback, but the fitness equipment that is growing the fastest in popularity is the elliptical trainer.
Their use has increased 158% in the past five years. The growth as increased from 1.1 million users to 6.7 million.The growing popularity of elliptical trainers and stationary bikes may be a result of the rising number of older indians.
The low-impact workout they provide seems to be appealing to the over 55 crowd. It also is attracting younger users who are concerned about injuries.
Best Elliptical Trainers India 2020
Here are the list of top 8 elliptical trainers in india.
Elliptical trainers provide the means to perform a medium-intensity, low impact workout that produces incredible results from the comfort of your own home. The Welcare Elliptical Trainer WC6044 is a popular model that delivers a great value for an affordable price.
The Welcare Elliptical Trainer WC6044 has a seat adjustment features which makes it more comfortable to use. the Welcare WC6044 Elliptical cross trainer has a LCD display that shows  Time, Speed, Distance Covered, Calories Burned.
Unlike other machines the Welcare WC6044 will fit each individual person's needs and style. Simply choose your goal and then the Welcare WC6044 cross trainer will do the rest for you as you train. The Welcare  WC6044 elliptical trainer is also more compact than other elliptical models making it great for people who want to work out at home but only have a small space to place gym equipment.
Features:
LCD Display : Time, Speed, Distance Covered, Calories Burned


Fly wheel : 4 Kg

Total Body Workout

Magnetic Resistance : 8 Level Manual
If you're looking for an elliptical trainer that is comfortable and easy to use then look no further than the Viva Fitness KH-580 Elliptical Cross Trainer. The Viva Fitness KH-580 Elliptical Trainer is so easy to use and is packed with lots of features that mean anyone can use it.
The Viva Fitness KH-580 comes complete with 24 levels of resistance control, 18″ stride length and a maximum user weight of 130 kg. So whether you're a beginner or an expert you can get the workout you need.
Viva Fitnessare renowned for making high quality exercise equipment, so you know that the Viva Fitness KH-580 Elliptical Trainer is built to last. Not only is the Viva Fitness KH-580 really smooth and quiet to use, the LCD window system will track all the important information about your workout including speed, calories burned, time, RPM, distance etc.
Features:
LCD window shows: Speed, Time, Pulse, Distance, RPM & Calorie

24 levels of resistance control

Flywheel : 30cm


Stride length : 18"

It comes with handheld pulse sensing technology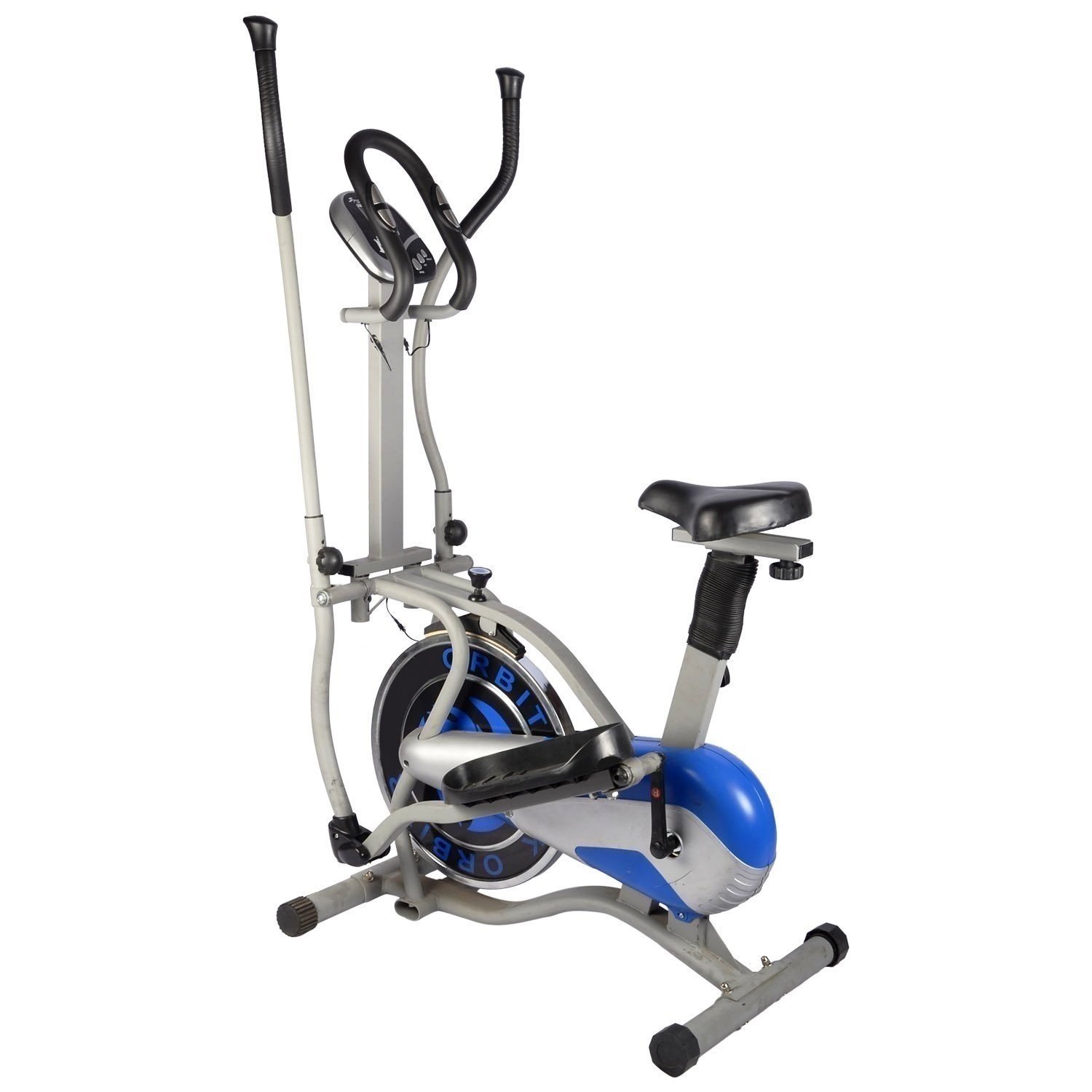 The Allyson Fitness 4 in 1 Orbitrek Elliptical Trainer featuring a convenient seat is one of the most affordable dual-action trainers available on the market.The Allyson Fitness 4 in 1 Orbitrek Elliptical Trainer performs two functions as it can be used as either an elliptical trainer or as an exercise bike.
This will allow you to get 2 different workouts without the necessity of buying 2 different machines. It also offers a great low-impact workout so can be used by anyone including the elderly or people with minor injuries.
The Allyson Fitness 4 in 1 Orbitrek Elliptical Trainer is a "no-frills", yet high quality, model. When compared with the expense of a gym membership, the Allyson Fitness 4 in 1 Orbitrek Elliptical Trainer machine will pay for itself in just a few weeks. There is no question as to why this particular model is so popular.
Features:
Digital meter shows : Time, Speed, Distance, Calories Burned

Burn maximum calories upto 820


Easy-Glide- Wheels

Complete body cardiovascular workout
If you expect a lot from your elliptical trainer then you're sure to find the Xterra FS 4.0e Cardio Fitness Elliptical Trainer to be useful and exhilarating. The Xterra FS 4.0e Cardio Fitness Elliptical Trainer is of the most advanced and feature-packed trainers available on the market.
Made by Xterra, the company that is renowned for making quality fitness equipment, the Xterra FS 4.0e Cardio Fitness Elliptical Trainer has every feature you could ever need or think of.The Xterra FS 4.0e Cardio Fitness Elliptical Trainer has a built-in LCD display allows you to track your speed, time, distance, RPM, calories burned etc .
You can track the results of every workout and monitor your progress each time you exercise with the elliptical trainer. The Xterra FS 4.0e Cardio Fitness Elliptical Trainer also measures your RPM and pulse levels, so can easily keep record of your increased level of fitness and health.
Features:
Bright LCD Display : time, speed, calories, distance, RPM,  pulse and watts


Dot matrix display with 20 profile segments

Alleviates stress on the knees and ankle

Eight specific program buttons
The Kamachi CT-500 Magnetic Cross Trainer may reside at the higher end of the price range for elliptical trainers, but there's a reason for that.
It is one of the best trainers available on the market due to its quality and amenities. It's an ideal machine whether you're a beginner or an avid exerciser due to the number of training programs it features.
The Kamachi CT-500 Elliptical Trainer is designed to suit a plethora of different needs, making it ideal no matter what your fitness level may be.
It also features LED display which shows time ,speed, distance, calories and heart rate. Monitoring your heart rate is easy since this model comes with a heart rate sensor, letting you choose the best way to monitor your exertion while exercising.
Features:
Display : speed, distance, time, calories and heart rate etc


Heart rate sensing technology

Wheels : 2 in 1

Total body workout
If you don't have space to store a plethora of exercise equipment then the Xterra FS5.3e Steel Elliptical Cross Trainer might be the perfect option for you. The Xterra FS5.3e steel elliptical cross trainer allows you to have a fantastic cardio workout, yet easily fits into small spaces. Unlike other elliptical trainers, the Xterra FS5.3e elliptical trainer comes with a 8.5 kg flywheel and Xtra Large 20-Inch Ellipse Motion.
The Xterra FS5.3e Steel Elliptical Cross Trainer has a 5.5″ console display that shows different activities like speed, time, distance, calorie, pulse and scan. The Xterra FS5.3e elliptical trainer is packed with features and benefits that give you an efficient workout. It runs smoothly and targets the knees, hips, and legs without putting any extra pressure on the joints.
Features:
5.5″ Console Display : speed, time, pulse, distance, calorie and scan

8.6 Kgs flywheel

Xtra large 20 inch ellipse motion

Resistance : 1-20 Level
Looking for an elliptical trainer that has all the features of expensive models but without the expensive price tag? If so, the Kettler P Cross Trainer might be just what you are looking for. The Kettler P Cross Trainer has some excellent features that can usually only be found on more expensive models, but at a fraction of the cost.
Not to mention, it's one of the easiest machines to use; just choose your workout and the Kettler P Cross Trainer will adjust the resistance as you exercise.Once you have selected between the various workouts including weight loss, aerobic, and performance, all you need to do is jump on board the Kettler P Cross Trainer and start pedaling.
As you reach the different stages of the training program, the Kettler M Cross Trainer will alter the resistance for you, allowing you to concentrate on your workout rather than worrying about manually adjusting the settings. The Kettler P Cross Trainer has a 14 kg Flywheel and a LCD display that tracks various activities such as speed,time, distance, RPM, calories and pulse etc.
Features:
LCD displays :

time, speed, distance, calorie, RPM and pulse

16 levels of magnetic resistance

14 kg flywheel


Heart rate can be measure by using hand pulse sensors or chest strap

The Cockatoo Imported OB-02 Multi-Function Elliptical Trainer is an excellent machine that provides an efficient workout for people that have limited space. It is an elliptical trainer and exercise bike all in one because of the extra featured seat allowing it to only take up the space as one machine but give you the efficiency of two great workouts.
You can choose to use the elliptical trainer to meet some of your fitness needs or sit down on the seat to work different muscle groups without ever leaving the machine.The Cockatoo Imported OB-02 Multi-Function Elliptical Trainer itself is made from very high quality materials, making it built to last. There's a 5 function display that allows you to track your distance, calories burned, time, speed, hand pulse etc.
Features:
Display : distance, calories burned, scan, elapsed time, speed and hand pulse

Large pedals with ridges

Adjustable seat and resistance

Reduces stress on joints
How to Buy the Right Elliptical Trainers?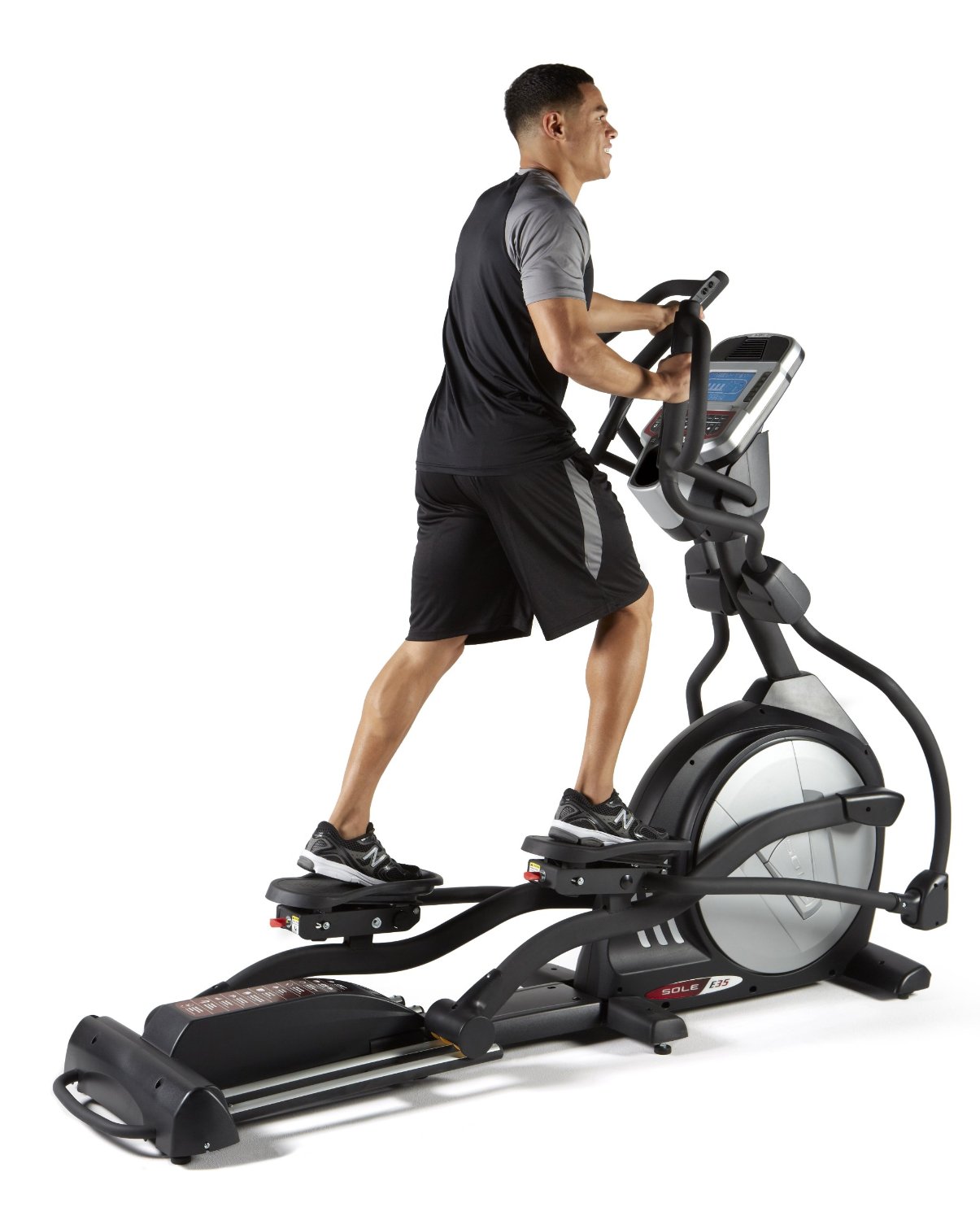 While Elliptical Cross Trainers are one of the best methods for a low impact cardio workout, when it comes to buying one for your home, there are a wide variety of choices that can make it hard to choose from. With the wide variety of Elliptical Trainers on the market, prices, features and benefits vary as well.
For most people, price is the first consideration when it comes to choosing an Elliptical Trainer. However, it is recommended that you first assess your needs then match them to the appropriate Elliptical Trainer.
1.Features
When assessing your Elliptical Trainer needs, you should first consider the basic features of the machine. Any good Elliptical Trainer will include an adjustable resistance feature which will allow you a wide range of resistance levels for varied training intensities. In addition, you should measure the stride length to be sure that it is in proportion to your height.
Other features of the better Elliptical Cross Trainers are an adjustable incline and an option which allows you to workout your upper body. Finally, quality Elliptical Trainers are built to be sturdy, with pedals moving smooth and the entire machine performing quietly.
2.Size
If you are purchasing an elliptical cross trainer for use in your home, then the size of the machine may be a factor. Make sure you have a place in your home to use and store your new machine that will accommodate the size of the machine you are considering.
Speaking of size, you also need to be sure that your stride will fit into the specifications of your new elliptical cross trainer. A very tall person may need to consider a larger machine to accommodate their larger stride length.
3.Heart Rate Monitor
What kind of extras are you looking for.  Elliptical trainers with a built in heart rate monitor are very popular.  This ensures you will not be tempted to cheat or slack off during your workout.
The heart rate monitor does not lie, targeting an appropriate heart rate for your age and condition will ensure you are working hard enough to get the results you are looking for.
4.Price
Once you have taken the above factors in consideration, you should now be able to accurately price the Elliptical Trainer that is right for you. Basic Elliptical Trainers can be purchased between 5000-15000 Rs while the better machines start from around 25000 and can go up as high as 45000.
5.Qualtity
While a budget Elliptical Trainer might fit your basic workout needs, keep in mind that it won't be as sturdy as the higher priced trainers and the overall quality of the machine will be lower. It is common for budget Elliptical Cross Trainers to have very short warranties, such as 30, 60 or 90 days.
Better quality Elliptical Trainers also include more of the "bells and whistles" than budget machines. If you enjoy extras such as a heart rate monitor, pre-set training programs, customized workouts and the ability to interface the trainer to your PC, then you will definitely want to consider the more expensive Elliptical Cross Trainers.
Because an Elliptical Trainer is a workout machine, you will need a trainer that is durable, sturdy and can hold up to daily use. For these reasons, it is often recommended that you stay away from the cheaper machines and pay the higher price for the better quality trainers as they usually come with an excellent warranty package.
6.Waranty
You should consider the warranty period, does the company stand behind its product? Look for at least a 3 year warranty and see if you can find information on the companies track record both in honoring its warranties and in the overall reliability of their products.
Elliptical Machines And Your Joints
Elliptical machines, also commonly known as elliptical trainers, maximize exercise potential by eliminating impact injuries.
No exercise equipment today is better for your health and the health of your joints than an elliptical machine. This machine is intended to provide a quality cardiovascular exercise for its users. It is the closest that you will probably ever get to exercising without gravity.
Elliptical trainers are not intended for building muscle but for maintaining health.  Running or jogging on cement is detrimental to your total joint health, especially to the legs. Cartilage depletion is a very serious problem and can cause severe pain.
Cartilage is a dense connective tissue, and when it is damaged, it repairs very slowly, if at all. Prevention is the best method of preservation of this vital tissue.
Treadmills are a popular alternative to outside exercise; however, these machines can induce the same injuries to your body as cement.
Although the treadmill itself was actually created to have a softer surface, the act of jogging or walking heavily, in conjunction with your body weight and gravity, still damages joints. Knees are especially victims of this good-intention form of exercise.
The patella, known more commonly as the knee cap, is compressed between the thigh bone (femur) and the tibia and fibula. Imagine the abuse jogging inflicts on this vital joint. Cartilage is nature's first and only set of break pads for our joints, and once they are damaged or gone, our mobility is gone.
We must preserve these precious joints for as long as possible. With life expectancy continually increasing well into the 60's, 70's and 80's, it is vital that we protect our joints so that they will function well into later years of life.
Provide yourself with the highest quality of cardiovascular exercise by purchasing an elliptical machine.
Most users compare the feel of an elliptical to walking on sand, and you'll experience no impact exercise with all the aerobic benefits you need during an elliptical workout.
No other exercise equipment is available to you with such impact injury protection outside of a swimming pool. It is a smart investment for your wallet and for your body.
If you have yet to experience the feel of an elliptical, try a one-day gym membership so you can get the feel for one before you make your purchase.
Once you start, you won't want to stop this amazing exercise that is sure to leave your joints pain-free.
Benefits of an Elliptical Trainer
The elliptical trainer is a complete body machine with benefits that may include:
Weight loss
Muscle/Bone building
Increased metabolism
Natural toning
Melting calories
Using an elliptical machine is the perfect way to lose weight and tone muscles, within the privacy of your own home.
Conclusion
Finally, because there are so many companies, prices for the same machine can vary significantly from store to store.
It is recommended that you search the internet for the particular machine you desire so you can be sure that you get the most value for your money when it comes to buying an Elliptical Trainer.