| Treadmill | Name | Motor | Rating | Buy Now |
| --- | --- | --- | --- | --- |
| | Durafit Heavy Hike Treadmill | 2.5 HP (5 Hp Peak) | | Buy On Amazon |
| | Cockatoo CTM-04 Treadmill | 1.5 HP (2 Hp Peak) | | Buy On Amazon |
| | Durafit DC Motorized Treadmill | 2.5 HP (5 Hp Peak) | | Buy On Amazon |
| | PowerMax Fitness TAC-400 Treadmill | 4.0 HP (6 Hp Peak) | | Buy On Amazon |
| | MAXPRO PTM405 Treadmill | 2.0 HP (4 Hp Peak) | | Buy On Amazon |
| | PowerMax Fitness TDM-101 Treadmill | 2.0 HP (4.0 Hp Peak) | | Buy On Amazon |
Try this food supplement for building muscle mass: Nutrigo Lab Mass
Because of the growing awareness of people on the importance of being physically fit and healthy, the popularity of treadmills has also increased. A lot of people also find it very convenient to not have to go to the gym or spend time outdoors to do some exercise.
However, it is also a fact that buying your own treadmill for yourself is not a very practical choice, as treadmills are expensive. But if you know where and how to look for best affordable treadmills, you will definitely save a lot of money and have the convenience of doing workouts at home.
Doctors always say that it is not necessary to go to the gym to keep your body fit. As a matter of fact, going jogging or walking for several minutes a day can surely benefit the body. And with your own treadmill at home, you will have no reason at all not to spend some time every day burning some of your fats.
The only thing you should do is set the inclination and the speed of your treadmill, and you're on your way to having a good and effective cardiovascular workout.
Best Treadmills For Home Use In India


Powermax Fitness TDM-125S with 2.0HP motor is an excellent piece of workout machine. It comes with a great set of features.
Features
It comes with a 2.0 HP DC green efficient motor.

For intense workout it has 3 level manual incline.

It is also equipped with a 5.5" bright blue LCD display.

It comes with 12 set of programs along with 3 target based modes.

It has a heart rate sensor on crossbar handle.

The frame is covered by a lifetime warranty and 3 years warranty for the motor and 1 year warranty for parts and labour.
Pros
12 set of programs

Heart rate sensor

Dual spring shock absorption

Auto lubrication
Cons
Poor installation service
FITKIT FTK065 4-in-1 is the perfect combination of functionality and good looks.
Features
Motor and parts are covered by 1 year warranty each.

It has LCD display.

It is equipped with green efficient DC motor.

The machines comes with the FITPlus android and ios workout app.

You get 12 pre-set programs with changeable modes.
Pros
90 degree folding design

Supports weight up to 90 kg

Heart rate sensor

12 pre-set programs
The 7-in-1 FITKIT treadmill is the new standard in home fitness.
Features
The motor and parts are covered by 1 year warranty each.

It comes with shock absorption feature for reduced stress on joints and legs.

The machines is also equipped with speakers.

The soft drop mechanism assure safe and hassle free unfolding every time.

You are provided with 12 pre-set programs.
Pros
Wheels for easy transportation

DC green efficient motor

Supports weight up to 120 kg

Easy folding
Cons
Poor installation service
This semi-auto lubricating, multifunctional treadmill from Powermax Fitness is what you need to have a great home workout experience.
Features
You are provided with free installation services.

Lifetime warranty on frame along with 1 year warranty on parts and labour and 3 year motor warranty.

It is equipped with a 2.0 HP DC green efficient motor.

It has 15 level auto incline for intense workout.

For comfortable workout, the machine has dual shock absorbing spring.

Hydraulic softdrop system for easy unfolding and folding.

12 set of programs with 3 target based modes.
Pros
Heart rate senor

Multifunctional

Wheels for easy transportation
With quiet energy saving motor, this treadmill from FITKIT is the ideal workout machine for you.
Features
It comes with 1 year warranty on both motor and parts of the machine.

It is equipped with MP3 speakers along with a LCD display.

It has a DC green efficient motor.

You are provided with a FITPLUS android and ios workout app.

It comes with 12 set of programs for effective workout.
Pros
Supports weight up to 110 kg

Easy folding and unfolding

Heart rate sensors

Wheels for transportation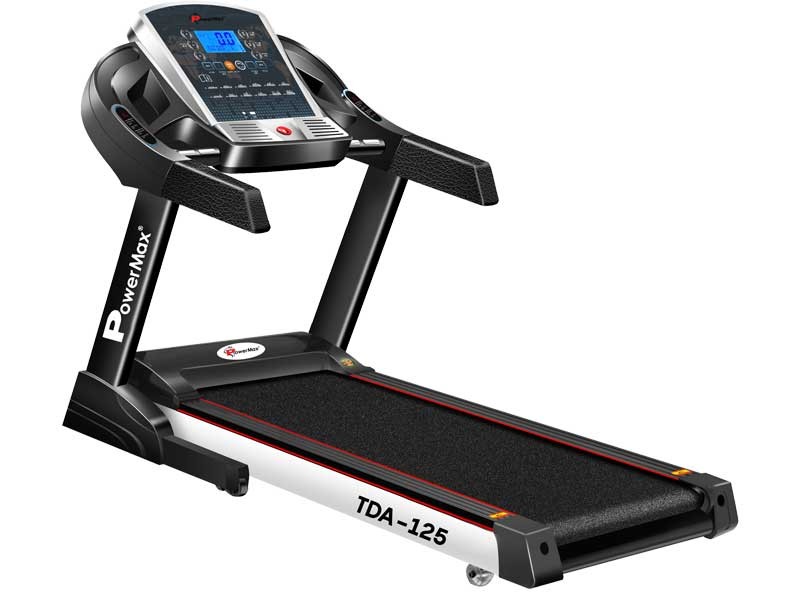 This Powermax Fitness treadmill is all you need to boost your home workout sessions.
Features
It comes with 18 level auto incline.

It is equipped with a 2.0 HP DC green efficient motor.

It has 12 pre-set programs along with 3 target based programs.

It has auto-lubrication for easy maintenance.

The product is covered by a lifetime frame warranty.
Pros
Dual shock spring

Hydraulic softdrop system 

Support weight up to 115 kg
Cons
Expensive

Bad customer service
FITKIT FT098 motorized treadmill is amazing for your cardio workouts. It has all the important features you need.
Features
It comes with 1 year warranty against motor and 1 year warranty on parts.

You can track your daily workout progress with the FITPLUS android and ios app.

You get 12 set of programs.
Pros
Wheels for transportation

DC green efficient motor

90 degree folding design
This 6-in-1 treadmill from Healthgenie is the perfect machines for those who love to workout at home.
Features
It comes with a 3 year warranty for the frame.

It is equipped with a 2.0 HP DC motor.

It has LCD display that shows all the important information.

It is a complete fitness solution for your home.
Pros
Complete workout solution

Noiseless

Easily portable
FT100 series foldable treadmill is equipped with features that allows you to have an intense workout at home.
Features
You will get free installation services with the machine.

It comes with 1 year warranty against the parts and another 1 year warranty for the motor.

It has LCD display, MP3 speakers, AUX port and cable.

You also get the FITPLUS android and ios app to keep a track of your workouts.
Pros
Supports weight up to 110 kg

Easy folding and unfolding

Easily portable
If you are looking for an efficient home workout machine then Powermax Fitness TDM-98 1.75 HP motorized machines could be the ideal choice for you.
Features
It comes with a lifetime warranty on frame and 3 year warranty on the motor.
It is equipped with a nice LED display.
You are provided with 12 pre-set programs
It also has a heart rate monitor.
Pros
3 target based modes
Console speaker
Shock absorption system
5 layer anti-skid
How To Buy The Best Treadmill Brands In India?
When buying a treadmill, there are a few things that you need to consider. If you are buying the machine for the first time then you can take help from the following pointers.
1.Running deck
A good quality treadmill should have a sturdy running deck. Not just that but it should also be strong enough to support your weight. Check the running deck of the machine before buying the machine. this will ensure a comfortable workout at home.
2.Motor
The horsepower delivered by your motor directly affects the performance and quality of your machine. It can be really confusing for you to figure out motor specifications and horsepower. It is advised that you should opt for a machine with a 1.5 CHP motor.
If you are going to exercise on a daily basis then it's better to choose a machine with 2.5 to 3.0 CHP. You need to select the motor based on your weight. For example, if you are heavy then you need a more powerful motor.
3.Display console
Nowadays, almost every treadmill machines is equipped with a display console. However, you need to check the information it shows while it running. Display console should show you the walking distance, speed, calories burnt, heart rate etc.
4.Frame
Treadmill frame is a very important part of the machine. It holds everything together. When buying a new treadmill make sure that you go for a sturdy frame. The sturdier the frame, the less jerk or shake you feel while working out.
5.Safety features
When buying a treadmill, you also need to look into the safety features. Most of the machines come with a safety key that is connected to the machine and your clothing. The machine will stop running without the key.
Other safety features include handrails which allows you to hold the machine while running.
6.Price
Price is also a big factor when it comes to buying a treadmill. You can get treadmill in various price ranges. However, based on the price, the number of features may vary. Decide a budget and then choose a model based on your budget. This will help you to get something within your price range.
F0ur Tips For Spicing Up Your Treadmill Exercise Routine
Treadmills offer some of the best health benefits of all other exercise machines. If you are looking for a machine that will pack the most calories for every mile you log in, a treadmill is likely the piece of equipment for you.
Unfortunately as with anything you may find over time you become bored with your workout routine. Boredom is one of the most common reasons people stop exercising regularly.
The good news? Your workout doesn't have to get stale. There are many steps you can take to ensure your treadmill routine stays invigorating and exciting day after day.
So, if you are looking for a little motivation try the tips listed below. You may find your treadmill workout infused with new zest!
1.Vary Your Workout
This one is a no brainer. If you can afford to, you should consider investing in a machine that offers multiple pre-programmed workouts. That way you can select a different workout routine weekly to help keep your workouts interesting.
You can also opt for a machine with an incline that allows you to rotate flat runs with hill runs. This will help keep your fitness at peak levels and help keep you motivated.
2.Workout Backwards
Another way to vary your routine is to walk or run backwards. You'll actually burn more calories because your body has to work harder to focus and remain balanced while in reverse.
Studies suggest that our metabolic rates increase when moving backward than forward. We use more muscle volume when walking or running backward! Just be careful you try this out SLOWLY at first. You don't want to fall off the treadmill after all.
Running backward will also challenge different muscle groups thus improving your fitness training. While some find running backward awkward initially, most do well after practicing for a little while.
4.Try Interval Training
If you get up every morning, hop on the treadmill and run three miles, in no time you'll find you are bored and your body has adapted so you aren't realizing the best benefits of your exercise equipment. Interval training is an easy way to spice up any exercise routine.
Consider alternating high intensity intervals with a slower easy pace. You can run for 2 minutes on the treadmill for example at your maximum intensity, then walk for 3 minutes, then run again.
You can also increase or decreases the incline or resistance for each interval to keep things varied and help improve your overall cardiovascular strength and endurance.
5.Set Goals For Yourself
If you are just starting out you may aspire to run 1 mile. After time this gets easy. You have to continually set new goals for yourself to stay motivated while working out, regardless of the type of exercise you engage in. Once you hit a milestone consider setting new goals for yourself.
You can set daily goals or weekly goals. These may be routine oriented (run 2 miles at X pace today) or total fitness related (improve muscle strength and lose 2 pounds in 2 weeks).
Successful athletes know and understand the benefits of setting goals with respect to their fitness regimen. Fortunately you don't have to be an athlete to benefit from goal setting.
Treadmills in India For Home Use – Treadmills For the Heaviest People
Most people want to burn calories and lose weight, but want to avoid the inconvenience of going to a gym every day. For this reason, prefer to buy a treadmill, because it is one of the best options to achieve these goals.
The problem is that people who need to use a treadmill are the least want to buy one. For this reason, the treadmills are made for people of average size. In this article we will talk about the things that a heavier person should consider when buying a treadmill.
The treadmills in gyms, are for commercial use, which means that treadmills are designed to work long hours during the day and also have warranties that cover this heavy duty.
These treadmills are made with a strong structure, and can be used by people over 275 pounds. The cost of these treadmills is between 50,000 to 80,000 INR.
The home-use treadmills are priced between 20,000 to 35,000 INR, the disadvantage is that they are designed to be used by persons weighing less than 275 pounds. They have smaller engines are more narrow and less strong.
These treadmills have a good performance when used by people of average weight, which decreases when used by a person weighing more than 275 pounds. If you have more than 275 pounds, you should be more careful when choosing the treadmill to buy.
The first thing to observe is the weight limit recommended by the manufacturer, usually a heavy-duty home treadmill has a weight limit from 300 to 500 pounds. This weight limit is determined by the manufacturers in a way that is unknown.
We do not think overweight people are running on the treadmill to see when they are ruined. Most likely thinking that determine this limit to avoid taking responsibility for the warranty.
One of the critical points to note is the motor force that is measured in CPH, which means continuous horsepower, which is not only momentary maximum load, but the maximum load that the motor can be sustained for a period over time.
Due to its structure should be stronger, these treadmills are heavier, more than 250 pounds. They have a tread of at least 20 inches for comfort for the obese.
The Handrails are necessary to give more comfort when getting on or off the treadmill. Also serve as support when using the treadmill.
Benefits of Treadmills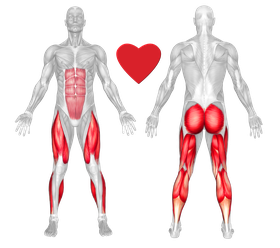 Treadmill exercise is the fastest growing fitness activity in the country. Treadmills are very convenient for busy people who just don't have the time to go to the gym regularly, or even take a walk around the block. Treadmills are a great way to get into shape and burn fat.
Do you know that walking and running have the lowest level of perceived exertion while burning the highest number of calories. Walking and running does wonders for maintaining bone mass because it is weight bearing and provides the additional benefit of impact at foot plant.
More importantly, because it is so natural, walking is one exercise that you can stay with, see results and enjoy. Treadmills are known to be the most popular and most effective home exercise and fitness equipment with 33% of the sales and is capable of burning around 850 calories per hour.
Treadmills are so popular these days because of the many benefits they provide. The most important treadmill benefit is it works by having you walk, run, or jog in your usual way.
Another important benefit is treadmills tend to be less harsh on tendons and joints than other exercise machines and even other sports. Treadmills are great for these people because they can read, watch TV, or listen to music while they walk or run.
Some treadmills even allow you to work on your laptop wile exercising. You can get the best treadmills workout regardless the weather. Rain or shine, snow or heat, you can still workout with your favorite treadmill.
With cities getting more crowded, treadmills are immensely popular with those who prefer to exercise in the comfort of their homes. Treadmills are great for beginners because they require little coordination to use.
However, treadmills do not come cheap. Treadmills start at approx 20,000INR for a self powered one up to over 35, 000 INR for a motorised commercial type.
Many treadmill users have sworn that their treadmill is one of the best investment as it keeps giving you more value for money every year.
With the all-weather availability and anytime-convenience that treadmills can give, what other better way to invest in your health?
Now that you know about the many treadmill benefits, before you go ahead and purchase your first treadmill, read about all you should know about buying treadmills. What are the features to look out for? Should you buy online?
A treadmill is a big investment. It might not be a car. It certainly isn't a house. But you do spend around 20,000 to 25,000 INR of your hard-earned money on a piece of metal that is supposed to help you burn down calories and generally stay healthy.
Why would you waste your money on something that doesn't work, or has very low shelf life? Read about the great tips on how to avoid bad buying practices.
Even if you have already own a treadmill, are you giving it the best care possible so that it continues to work to keep you healthy? Read about the many great tips for caring your treadmill, and they will pay off in the long run!