Buying the juicer isn't hard. They are everywhere. Getting the right juicer however, is the key. Because if you don't love your juicer then you're not going to love juicing and it'll wind up right in the cupboard. Never to be used again. If you're like us then you probably have a few appliances that sound just like this. And that would be a shame, because a juice maker really is one of those appliances which is proven to be good for your health.
When you make juice, you are extracting the natural essence from the foods we all know we should be eating more of-vegetables and fruit. The juice making process itself should be a rewarding experience as you are finally connecting your body to the elements of nature that it has been looking for. We really believe this, and it's one of the reasons we started this site.  The best juicer to buy is the one you'll use over and over all week long.
Top 10 Juicers in India Reviews 2019
Here are the list of top 10 juicers
1.Philips Viva Collection HR1832/00 Juicer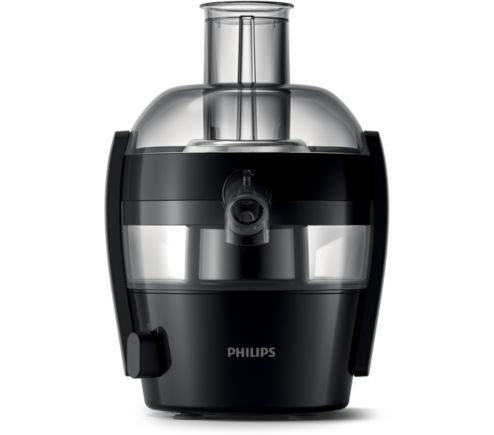 Specifications :
Integrated pulp container

Easy to clean with

QuickClean technology

Capacity: 1.5 liters

;

Power: 400 watts

Removable parts can be washed in dishwasher
Product Description :
The Philips Viva Collection HR1832/00 juicer
is one of the most popular juicers amongst consumers that is available today. The combination of relatively low price and powerful juicing capabilities has seen this juice machine make it's way into countless homes worldwide.
The usual high quality standards that you associate with philips are in evidence here, and it has built a reputation for being an efficient and fast juice fountain that is easy to assemble and operate.One of the great things about the Philips Viva Collection HR1832/00 is how easy it is to clean. It easily disassembles into parts, that are dishwasher safe.
This juicer has all of the abilities of higher priced versions. This version is perfect for anyone that need a straightforward, fast and hassle free juicer. The body is made up of  ABS Plastic and material jug are made from PP Plastic . If you want to simply juice then the Philips Viva Collection HR1832/00 is perfect.
2.Hestia Nutri-Max Cold Press Juicer
Specifications :
Requires

only 1 minutes to clean the juicer

Three Strainers for Juices, Frozen fruit gelatos & Smoothies


Power: 240 watts ; Operating Voltage: 220 – 240 volts

Large feeding tube (

75 mm

)
Product Description :
The Hestia Nutri-Max Cold Press Juicer is a cold press juicer providing you with a great juicing encounter. Owners adore how quickly this juice juices, how simple it's to clean up and its broad 75 mm feeding tube. With a strong 240 W AC motor, this version works at 60 RPM  and can handle a large selection of hard and soft fruits for the juicing demands of nearly everyone.
Made from high grade materials for example Ultem plastic and triton plastic, this unit is constructed to continue and strong, secure. Like most of the newer versions, with the extra wide feeding tube, prep time is reduced. Simple to assemble, disassemble and clean.
Overall this product is great, its got a slightly higher price tag however for consumers looking for something that offers a little more reliable juicing then this is definitely a juicer to consider.
3.Philips Viva Collection HR1863/20 Juicer
Specifications :
Easy to use and clean
Pulp container : 1.2 liter and juice jug : 800ml

Powerful 700W motor
75mm feeding tube and 2 Litres capacity
Product Description :
Simply turn on and your Philips Viva Collection HR1863/20 Juicer will blend all of your fruits and veggies into a fresh juice anytime. While the large feeding chute allows for most ingredients to be put in whole, you may want to cut down some larger items such as cucumbers and pineapples.
The powerful 700 watt motor can efficiently juice daily without problems. The jug material is made up of SAN jug and PS cover and there is an extra large 75 mm feeding tube. For a juicer under 10,000 Rupees works great and is fairly powerful. It doesn't walk when in use and it is comfortable and reliable as well. Great for people who want to simply juice normal fruits and veggies!
4.Panasonic MJ-L500 Cold Press Slow Juicer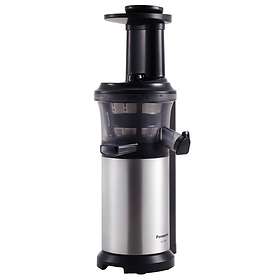 Specifications :
Ideal for hard and soft fruits
Power : 150 watts and Speed : 45 RPM
Less foam and more juice
Easy to use and clean
Product Specifications :
The Panasonic MJ-L500 Cold Press Slow Juicer is a fantastic juicer that provides the optimal amount of nutrients from every ingredient. Other juicers spin at such high velocities that the valuable enzymes are destroyed and you lose a lot of the healthy ingredients.
With this juicer, you don't have to worry about losing anything valuable during the actual juicing process – it spins at only 45 RPM's and produces a fabulous juice. Since this juicer rotates slowly, the fruit juice can be stored for much longer without degrading as well! When you are done juicing your ingredients you only have to spend a few minutes cleaning up.
The only problem with this appliance is the price. With a price under 20,000 rupees many customers might shy away from it. Fortunately this Panasonic MJ-L500 is worth every penny however if you find it on sale then you're in luck!
5.Usha Nutripress (362F) 240-Watt Cold Press Slow Juicer
Specifications :
Extracts more juice as compared to other juicers

Retains nutrition,  vitamins, enzymes and minerals

Suitable for fruits, hard vegetables and leafy vegetables
Wattage: 240 Watts ; Speed: 65 RPM
Product Description :
The Usha Nutripress (362F) cold press Juicer will brighten any morning with a fresh cup of delicious juice. The juicer is perfect for fruits, hard vegetables and leafy vegetables and is solidly built so if you juice every day then you can count on this model to withstand the use. With convenience in mind usha designed a fantastic model that is even able to accommodate left and right handed users with a small adjustment.
When juicing with this model you'll notice that it juice more fast as compared to some other models, this is because it gets every last drop of juice out of the foods and is meant to last years. The warranty on this model is a fantastic since the motor is guaranteed for up to five years and the product is warrantied up to two years.
6.Hurom HE RBC09 Cold Press Slow Juicer

Specifications :
Fullfill al your juicing needs
Easy to clean and making smoothies

Power: 150 watts

;

Speed: 70 RPM

Five years motor warranty and one year body and parts warranty
Product Description :
Nothing truly beats the quality of a professional juicer. They last longer, they are more durable, and they generally have a few more features. If you are looking for a professional grade juicer then take a gander at the Hurom HE RBC0 cold press slow juicer.
The super attractive design looks fantastic on any countertop and you can tell that this high quality product is worth every penny you pay for it when you first use it. Rotating at up to 70 RPM this motor can quickly and efficiently juicy anything within a few seconds- No more waiting impatiently for your drink to be done.
You will save money in the long run with Hurom HE RBC0 cold press slow juicer because it ensures that all of the juice is extracted from your fruits. Additionally you save time juicing since you don't have to chop all of your ingredients up into tiny pieces like you do with cheaper juicers.
7.Kuvings

(B1700)

Professional Cold Press Whole Slow Juicer
Specifications :
Capable of jucing all types of fruits and vegetables
Compatible with ice creams and smoothies
Ten years warranty on gears and motors and one year warranty on electrical parts

RPM : 60 RPM ; Power : 240 Watts
Product Description :
Choosing a reliable juicer is a difficult task, especially for consumers who are looking for a quiet, efficient, and affordable juicer. If you are in the market for a new juicer then the Kuvings (B1700) cold press Juicer is probably on your list of considerations for a variety of reasons.
This particular model has a powerful induction motor that juices quietly even with the blades going 60 RPM's. With the motor comes a 10 years warranty for added security and peace of mind.
To juice with this machine simply put your fruits and vegetables down the large feeding chute, turn it on, and watch as all the juice is effortlessly extracted from your ingredients. For those of you who dislike pulp you'll love this machine since it has an extra large pulp jar to catch all of it.
8.Kuvings Limited Edition Cold Press Whole Slow Juicer (B1700)
Specifications :
Juices all types fruit, vegetables and greens
Large mouth (76mm) to load whole ingredients

Power : 240 Watts

; Speed : 60 RPM
10 years motor and gears warranty and 1 year parts warranty
Product Description :
Nothing beats the taste of freshly extracted juice. Not only do you know its fresh, but you can be sure of exactly what goes into it rather than having to guess what some of the ingredients are on the labels in stores. When it comes to juicers you have a wide selection, however the decision to choose the  Kuvings (B1700) Limited Edition Juicer is an easy one.
This model makes it easy to juice a variety of fruits and veggies of all sizes thanks to the large 76mm mouth, additionally it can rotate at an astonishing 60 RPMS ensuring that all of the ingredients are juiced perfectly!
For those looking for a great juicer under budget the Kuvings (B1700) Limited Edition Juicer is a perfect match. It has good speed, a fantastically large mouth to fit in larger fruits and veggies.
9.Braun Multiquick 3 J300 Juicer
Specifications :
1.25 Liters jug

and large 75mm chute
4 way safety system and 2 speed control


Dishwasher safe and powerful 800 watts motor

Fast juicing and cold storage system
Product Description :
For those with the patience, and for those who want the maximum amount of nutrients out of their ingredients when juiced, then purchasing a slow juicer is definitely the route to take. The Braun Multiquick 3 J300 Juicer in particular is a fantastic model that will produce the driest pulp imaginable while keeping all of the valuable nutrients in the juice for you to drink.
Additionally you will find that this attractive juicer is incredibly easy to clean as the removable parts can be put into the dishwasher. Whether you want to juice fruits, veggies or grasses, you can always be sure that this Braun Multiquick 3 J300 Juicer will provide you with the maximum amount of juice possible loaded with every drop of nutrients from the ingredients.
10.Havells Nutrisense Cold Press Slow Juicer
Specifications :
Slow Squeeze Technology

Continuous Extraction system

Blue LED functions Display

3 speed operations

and silent 60 db noise level motor
Product Description :
The Havells Nutrisense
 is a cold press juicer that comes in an easy to use vertical design. Like the other havells juicers, it uses low speeds of 47 RPM, with the intention of producing juice that has not been adversely effected by heat or oxidation.
It has great versatility, and will efficiently juice almost any fruit and vegetable  you add to it without a problem, with a high level of juice extracted and very dry pulp left behind.
This may well be an little expensive juicer, but it's worth every cent, and you know that with this juicer you have a quality machine that will last you for many years.The Havells Nutrisense
is simple to clean. It is easy to take apart and washes up under the tap in just a few minutes.
Types of Juicers
Okay, first things first.  Whether you shop for an Philips, Panasonic, Usha, or Hurom no matter what kind you buy- all juicers are going to fall into four main categories:
Centrifugal juicers
Masticating juicers (Cold Press Juicers)
Citrus Juicers
Triturating juicers (Twin Gear Juicers)
1.Centrifugal Juicer
A centrifugal juicer uses a flat blade with a mesh that spins at a high rpm to extract the juice. Veg goes down the chute, the knife blades quickly slice and dice, and the pulp is thrown against the mesh like socks in a dryer. At these high speeds (around 3,000-15,000 RPMs) the juice is quickly drawn out from the pulp and your juice is done.
These are the most common types of juicers that are found anywhere and generally the least expensive. Centrifugal juicers make the best entry-level juice extractors because of this low price and high availability.
2.Masticating Juicer (Cold Press Juicers)

When you get some experience making juice and you catch the "juice itch" you may start looking to upgrade to the next level: the Masticating Juicer.
A masticating juicer or cold press juicers uses an auger(a big screw) that chews up the fruit into a pulp before squeezing out the juice. The screw-type auger piece turns at a much slower rate than a centrifugal. Therefore the masticating juicer is almost always quieter than its centrifugal brother. Which may be a big selling point to those with lots of members in the house.
3.Citrus Juicer
Citrus juicers in some form or another have existed for centuries.  Different citrus juices are so popular world wide that there are many varieties of citrus hand juicers available today.  Citrus juices are popular for their taste and for the wealth of minerals, vitamins and anti-oxidants they have, being especially noted for the high amount of Vitamin C they contain.
Citrus juicers work on one of two basic principles.  The first one uses two opposing surfaces with the fruit squeezed in-between and the juice expelled.  The second uses a reamer that presses into the center of a half of citrus fruit expelling the juice between it and the fruit's shell.
Citrus hand juicers tend to be significantly less expensive than power models and since they don't use electricity they will save you money on both counts!  Manual juicers are normally very simple to use and very easy to clean.  
4.Triturating Juicer (Twin Gear Juicers)
A triturating juicer also called twin gear juicer has dual gears (two big screws) to pulverize and crush the vegetable/fruit first before extracting through a pressing screen.  They're much like their single-screw brethren but with the added auger comes a precise tolerance for how they mesh together.  
Triturating machines are generally the most expensive juicers on the market yet with the high price they also offer the best yield. You will usually find this kind of juicer in commercial establishments like health food stores.  Or wealthy people's houses.
Factors that Needs to be Consider Before Buying the Right Juicer
So here are the best tips and guidelines to help you choose the best juicer to meet your juicing needs, lifestyle, and budget.
1.Purpose: The most important factor to keep in mind is, what the main purpose of buying the juicer will be? If the purpose mainly is a morning healthy citrus juice, a citrus machine will do the job. If fruits and vegetables other than citrus fruits will be juiced, a multi-purpose juicer, i.e., Juice Extractor (Centrifugal Juicer) will be required. Under this category there are juicers available in the market that can handle seeds, stems and products like pineapple and broccoli. On the other hand if you like to have juices of wheat-grass or greens, you should look out for a Masticating Juicer with one or two gears.
2.Budget: The two factors which should be kept in mind here are, how often the machine will be used and the purpose of buying the juicer. Choose a simple model of a superior manufacturer than a complex model or a product of manufacturer of a questionable quality in the same price range.
3. Maximum Juice Extraction – Yield: Don't think that a lower-cost juicer is a good deal. Some more expensive juice extractors or masticating juicers pay you back in terms of reduction in wastage and by extracting maximum possible  juices, as much as 33 to 40% more than the rival brands.
4. Power and Speed: A juicer with high power-motor enables you to use the whole fruits and vegetables without any need to chop up them, so you can make juice quickly. For this you must look for watts, not the RPM. The RPM means the rotations per minute on a centrifugal juicer, but watts are what power the juicer's motor. Look for higher watts – 450 and higher.
5. Easy Cleaning: You need to clean the machine each time you extract juice and that too immediately after juicing. So cleaning is an important factor to look into. If you have a dishwasher, go for juicers which have dishwasher safe components, or choose a machine which has fewer parts made of stainless steel (maximum, 4 to 5 parts) and can be taken apart easily to soak in the sink for cleaning. The easier the clean-up is, the more you will utilize it.
6. Preparation Time: If you are busy and have less spare time for juicing, go for a machine with larger chute / feed tube ( so called Big Mouth Juicer), so that no cutting of fruits or vegetables is required. Such juicer can even take whole fruits and vegetables without any chopping.
7. Enough Space For Storage: You should choose a juicer of a size and design which can be placed comfortably on your kitchen counter. Taking into consideration storing and cleaning aspects, go for a juicer that can be assembled and disassembled with relative ease.
8. Noise Level: Noise level can be an issue with some people. The more powerful a motor is, the noisier it's likely to be. But juicers with more powerful motors are likely to be more efficient. You need to trade of between the two factors, depending upon your choice.
9. Warranty: For many people, finding the best juicer means finding a longer warranty. You should have one that covers the juicer in its entirety for at least one year. More manufactures cover the motor for even longer period.
7 Awesome benefits of Juicing
1. Uncomplicated retention – By simply getting rid of the soluble fiber, juicing reduce the lengthy hour-long digestive : process and also goes right to feeding your own solar cells within in relation to a quarter-hour. This gives one's body a rest from your manual work rigorous technique of digestive : giving your own additional power to your exercise, cleanse, detoxification, or perhaps coping with a health problem.
a couple of.
2. Nutrient Absorption – In today world numerous grownups today have got destabilized digestive : devices due to all of the bad foodstuff we've been feeding the body considering that when. This lead to numerous digestive : diseases like gall stones, lactose intolerance, diverticulitis, inflammatory etc… Consequently vitamins can easily complete through your physique as opposed to staying ingested.
After you veggie juice, your own vitamins tend to be "pre-digested. " Ones juicer will the digestion for you wearing down the mobile rooms regarding refreshing fresh vegetables and fruits so your physique can easily digest the vitamins being a cloth or sponge.
3. Alkalinity : juicing promotes an alkaline surroundings to your physique. If your is acidic it is stated you will encounter additional disease, anxiety, and also soreness. A great alkaline surroundings alternatively promotes greater power, increased immune system perform, reduced soreness and also irritation and is particularly asked slow-moving the signs regarding growing old.
4. Hydration: Our own bodies is made up of from 50-80% drinking water according to our age group. Your solar cells involve hydration regarding right working. Natural veggie juice provide you with the drinking water you need to boost dropped smooth along with providing you vitamin supplements, mineral deposits, digestive enzymes, and also phytochemicals.
5. Recovery Properties: "Let foodstuff end up being thy remedies and also remedies end up being thy food" Hippocrates. Juicing means that you can develop certain solutions to your distinctive requirements through heart problems melanoma and also heart stroke to help enhanced power, increased defense, robust your bones or maybe a shining complexion. Merging whole meals will allow one's body to soak up the vitamins and minerals to assist you to recover.
6. Level: Juicing means that you can consume a sizable amount of fruit and veggies that you can not really have the ability to take in of their fresh type letting one's body to soak up additional from the vitamin supplements and also digestive enzymes.
Consuming juicing provides the advantages of highly centred vitamin supplements, mineral deposits and also digestive enzymes to help speedily enter in your own bloodstream although having all of the healthy benefits of the fruit and veggies giving your own gastrointestinal system a essential rest
7. Antioxidants: The actual elements regarding juicing: fresh fruits, fruit and vegetables and also herbal treatments contain antioxidants which usually deal with totally free radicals which lead to mobile deterioration, growing old and also susceptibility to help varieties of cancer.
Summary
As you can see there's quite a range in juicers from 5000- 25000 Rs.  You can't really go wrong with any one of these choices  as they represent the top juicer in their class.  A good quality juice extractor should last you a minimum of 5 years and much longer with proper care. 
And ultimately, whatever gets you into juicing is a good thing.  You don't need to spend 5000 rupess to start improving your health and feeling the benefits that juicing brings.  Take action now: you landed here on this page for a reason.  If 2019 is the year you start getting healthy, getting the right juicer is your next step.  Make the smart choice for your wallet, pick one up and let's get juicing!