4 Tips on buying Bowflex adjustable dumbbells
If you go over to any e commerce site like Amazon and search for Bowflex adjustable dumbbells then you will find that there are hundreds of reviews for this specific dumbbell and it is rated as the number 1 adjustable dumbbell on Amazon. This in itself shows that a lot more people are interested and want to get their hands on Bowflex.
What this means is that there is a lot of hype around these product and many times people buy because of the hype and not being fully aware of the entire potential of Bowflex dumbbells.
This guide is made for you so that you realise all that Bowflex dumbbells have to offer and make a wise and well informed choice about them.
Know what Bowflex dumbbells are and what they are not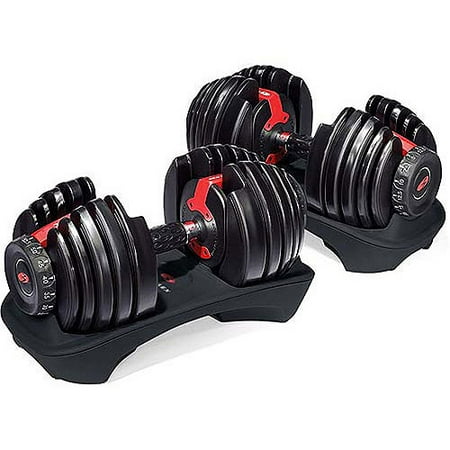 If you are someone who has just heard of Bowflex on TV or have seen others purchasing you may be wondering what there was so much noise around it. What makes them different?
As compared to free weight dumbbells Bowflex dumbbells are adjustable which means that you need not have different weights for exercising. In Bowflex dumbbells what you need to do is move the dials and the internal mechanism of the dumbbell would adjust accordingly as per the weight that you have selected.
Second thing is that you can adjust weights in increments of 2.5 pounds up to 25 pounds and in increments of 5 pounds later on. Each side can be adjusted from 5 to 52.5 pounds. So you do not need a full set of weights for exercising. You can replace the entire set with Bowflex dumbbells.
Know how the Dumbbells work
Actually there's not much need to understand how they work because it is simple as pie. Whatever exercise you perform you would need the dumbbells and the weight can be adjusted as per your need. There are no heavy installations too, although you may get a rack for placing them and that's it.Unlike other free weight dumbbells or exercise equipment you need not bury yourselves in complex manuals before getting an idea of how to use them.
Know the features that set Bowflex apart from the rest
There are some things that make the Bowflex a class apart and you should know about them. Bowflex models are considered high end and you should make the purchase only if more than two features apply to you and are important for you. Price: For most people price is a sore point because they think that adjustable dumbbells are priced higher but in reality adjustable dumbbells are priced lower. They go for free weight ones but only one pair of adjustable dumbbells can replace the entire set of free weight dumbbells and much more.
Space saving: Compared to the free weight models, which take up a lot of space adjustable dumbbells do not take up more than 30 feet of your home space and you will not litter your house with weights. Second thing you need not have heavy racks for this. And if you want to move them around just roll them and you are done. Consistency in resistance:  When you lifting weights you will experience resistance while lifting them up and almost no resistance when moving them downwards. On the other hand with adjustable dumbbells you can experience resistance even when moving your hand downward. It ensures that no movement of yours is wasted and you get more exercise in each and every step. Muscle development will be quicker this way and you will get more workout.
Durability: Being made of sheet rolled sheet and handles electoplated with chrome steel they are resistant to rust, wear and tear. So even if you place the dumbbells on the floor they will not be scratched easily and even after long term use they will not wear away. Moreover the dumbbells are covered in ABS plastic which ensures that the dumbbells don't clank.
Know how to take care of your dumbbell
Even though Bowflex dumbbells are a class apart it does not mean that they don't need care. If you take good care of them, they will last longer. Store them in a cool & dry place: The sweat from your hands and the moisture surrounding the dumbbells make it vulnerable to rust which is not conducive for the dumbbells. Purchase a stand: If you have a stand with ingress and degress then it will be easy for you to keep them. A stand makes it easy for you to store the dumbbells and it will not take much space either. You can get them as accessories whenever you purchase the dumbbells.