Exercise bikes are an ideal home exercise equipment  giving a funway to get your cardio workout. They provide a superb way for a beginner to get started exercising. Exercise bikes are fantastic exercise devices for all levels of motivated health and fitness seekers, including beginners.There are two style of exercise bikes, either upright (pedals below the user) or recumbent (pedals in front of the user). They are popular for people who want a regular overall body workout without having to have many types of exercise equipment.
Modern exercise bikes, unlike the older exercise bikes, are smooth and quiet. Recumbent exercise bikes are so comfortable and easy to use that eventually you can do workouts giving you results like you've spent hours a day on a stair-stepper.Exercise bikes come in all shapes, sizes and many price ranges. Most exercise bikes are available with numerous levels of resistance. They give you the benefits of a higher-impact cardio workout without the strain, excellent for people with bad knees for example.
Top 10 Best Selling Exercise Cycles/Bikes in 2018
Types of Exercise Cycles/Bikes
There are two main types of exercise cycles:
1. Upright
An upright exercise bike looks like a regular road bike with a vertical orientation. Upright bike allows for more movement, such as riding while standing on the pedals, or in a racing position, which can give you a more strenuous workout, but also be harder on your back.
2. Recumbent
Meanwhile, on a recumbent bike, the rider is seated against a backrest, with legs out in front.This way, your body is positioned in a reclining posture and your legs will hang out in front of you so you can reach the bike pedals contrary to the upright type where your legs simply hang down.
What to Consider Before Buying Exercise Cycles/Bikes ?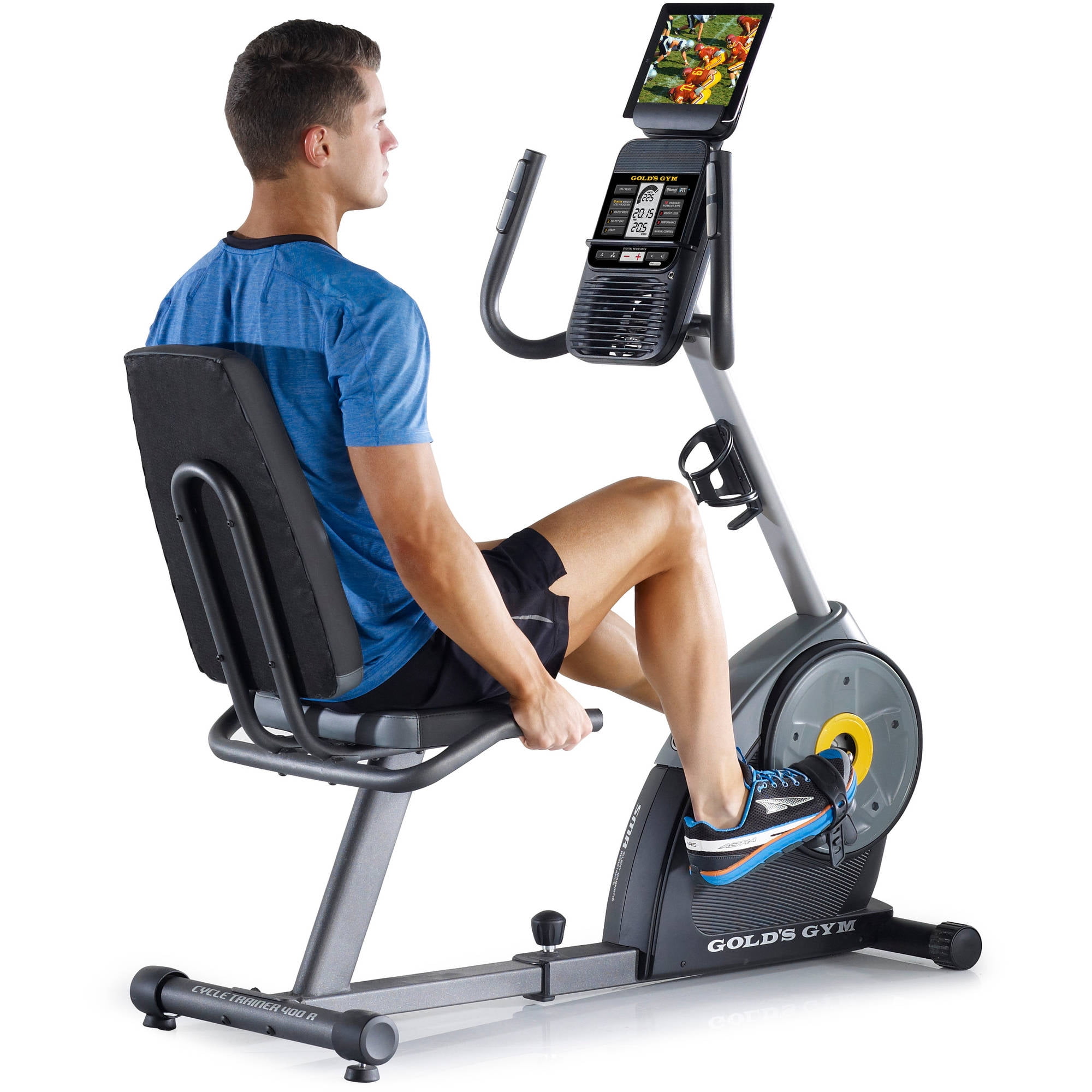 Price
The other aspect you must take into consideration is the price range according to your budget. There are basically three price ranges: under $500, between $500 and $1000, and over $1000. The first category is the best if you do not plan on using you bike frequently because their quality probably is not very high. While it is possible to get quality bikes for this price, it will not usually be that way, so do not purchase it unless you are on a strict budget.
Quality
In the second category, you can get a high quality and resistant bike for this price that usually include magnetic based resistance and grade console that will give you specific information about your workout. Foot straps, built in workout programs and a monitor for your heart rate are other usual features.
Resistance
An important factor to take into consideration is resistance and you can choose between three different kinds of resistance: direct tension, air resistance and magnetic resistance. Magnetic resistance is usually considered to be the best and most elaborated kind and also offers a wider range of levels.
It is also less noisy and offers a better feel while pedaling. In these machines, the direct tension allows you to manually adjust resistance, while air resistance is provided when pedaling against an airflow that comes from the fan.
Design
The last is probably the best category, with bikes designed to be used in fitness clubs and by the advanced home exercisers. Keep in mind that generally when it comes to exercise machines you actually get a valuable product so you will have to do a bit of research if you want to get a good one that you will use for a long time.
These are the basic and most relevant factors to consider when choosing a bike, the type and the price that you are willing to pay. There are also some other features that you may want to consider when selecting a stationary bicycle.
Other Factors
With so many digital consoles fitted to them, the majority of bikes offer information about the speed, the distance you have traveled, and the time you have been working out. As many recumbent bike reviews point out, if the bike is very sophisticated, you can also have features such as the calories you have burned, the resistance level and heart rate. Whether you go for a bike with a quality display that also includes many preset workout schedules or one that is more simple will depend after all on your personal preferences.
It is equally important that you know just how much are you going to use your stationary bicycle. If you have just begun exercising and are not very sure if you will use it a lot, you should probably save your money and consider a cheaper model. However, if you know you will be using the bike very often since you already exercise regularly, you should probably invest more and buy a machine that will last.
Exercise machines usually come with a wide range of warranties that can last from 3 months to a lifetime if we consider all the bicycle parts. Some parts can have a 180 days warranty, the electronic parts up to one year and the frame can last for an entire lifetime. Generally you should take into consideration that the longer the warranty the bigger the chances of a very high quality bike.
Choosing the best exercise bicycle is crucial and it will always depend on your personal needs and preferences. However, you should know that higher priced bikes are usually the most resistant and will help you obtain all the benefits they can offer you.
The Benefits of an Exercise Bikes/Cycles
Exercise bike are extremely popular both at home and in the gym. The simple reason is they are a great way to get and stay in shape. The following are just a few of the reasons that you should have your own exercise bike and how you can benefit from having your very own. Its a commonly known fact that most people do not get enough exercise each day. Much of society has become more and more technological and people across the globe have become more sedentary than every before, most of the day people are sat in front of a PC.
If you have your own stationary exercise bike at home, you have a great way for getting exercise, even while you are sitting down. You can simply put the bike in front of your television and ride the bike while watching your favourite television show. Doing this on a regular basis will go a long way to providing a healthy lifestyle. Exercising indoors has it advantages especially during winter when of course the weather outside is rotten. Even when the wind and rain are pounding outside you can still get a good workout.
Since many people in western world are very sedentary, more and more people are at risk for heart problems. One great cardio vascular activity that can help prevent health issues such as heart disease is biking. For people that are overweight the bike is a good exercise as there is no impact load on your joints. Cycling combined with a healthy diet can definitely help you protect your heart. So, while you are riding your bike, you'll actually be adding some years to your life. Which has to be a good thing.